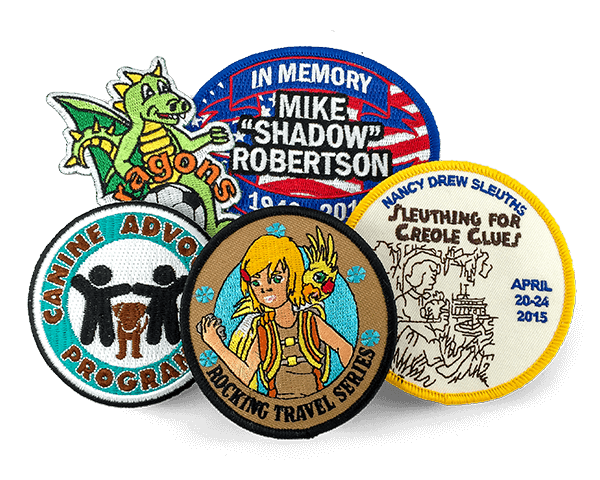 Jun 26, 2017
It's Easy to Customize Patches!
If you want to customize patches to announce your club affiliation, make a political statement, or even encourage people to smile a bit, it's easy to do. Today's talented graphic artists and computer-controlled embroidery equipment make it a breeze!
Up until about the past 150 years or so, creating embroidered products was purely a hand-crafted effort. Each stitch was painstakingly created one-by-one, with needle and thread. But in the mid-1800s, embroidery machines came along, making it far easier to create, and reproduce, embroidered designs. By the early 1900s, the machines were motorized, and soon came paper tape readers that allowed automatic operation.
That was nothing compared with the next big innovation, late in the 20th century. The computer revolution made it possible to control embroidery machines via microprocessors. In both creativity and production ability, this was a huge leap forward.
Computer control made it as easy to customize patches as it is to move a computer mouse. If you can create it onscreen, the machine will sew it. Multi-head embroidery machines boost both production speed and consistency. Custom embroidered patches that were once expensive and rare became easily attainable by virtually anyone.
The road to great custom patches starts with a great patch supplier. A reputable provider will walk you through the process of designing your patches, step by step.
Start by deciding what you want your patch to do. Are you looking for a patch that will let customers know the names of your employees? Do you want to show support for a political cause? Commemorate a special occasion? You can do it all with custom patches!
If you're not sure what you want your design to look like, don't worry. The graphic artists at a provider such as WholesalePatches.com will be glad to help you design exactly what you're looking for.
Size is always a consideration when you customize patches. Bigger designs need bigger patches of course, and are likely to require a greater percentage of embroidery as well.
About that embroidery percentage – it depends on your design. A relatively simple design, such as a business or employee name for example, will feature 50% embroidery. That is, 50% of the backing twill is covered by embroidered thread, and the rest of the backing is visible. More complicated designs will require either 75% or 100% embroidery. A 75% embroidered patch leaves only a quarter of the twill visible, while 100% embroidery covers the entire twill surface. Your patch provider can advise which style works best for your design.
Think about custom shapes, too. Your patches don't have to be just round, square or rectangular. Modern equipment can customize patches in just about any shape you can imagine. It's a great way to get people's attention.
Really, it all comes down to what you want. Reputable patch suppliers such as WholesalePatches.com are always glad to help you turn your creativity into custom patches you can wear with pride. If you'd like to find out more about what custom patches can do for you, feel free to give us a call toll free at 866.720.7467 or email us at sales@wholesalepatches.com. Let us show you how easy customizing patches can be!